Vibe plate compactors are ideal for compacting dirt, crusher dust or decomposed granite. This unit vibrates helping settle and compact the small granules of rock or dirt. A small amount of water applied to the ground can help reduce dust and aid in the compaction process. The vibrating plates are small enough to be transported on the back of a ute or in a trailer. At least two people are required to lift the unit by hand. Other features of these small vibrating plates include, a powerful easy start petrol engine, a central lifting point and four carry handles, can be used on road base or asphalt and the unit is easy to operate
Wacker Neuson VPH70
Machine weight: 82kg
Base plate dimensions: 610×460
The upright leg rammers are ideal for compacting cohesive soil inside trenches, excavations and footings. They offer a deeper compaction depth compared to a vibrating compactor. Trenches and other restricted spaces are the ideal application for our heavy-duty ramming compactors and they can be used by landscapers, builders or the home handyman. All our leg rammers have a lifting point, are easy to start and operate.
Wacker Neuson BS60-4As
Machine weight: 72kg
Machine dimensions:(LxWxH)673x343x965
Foot pad dimensions: 280×340
Mikasa reversable plate compactor is ideal for the compaction of sand, gravel and cohesive soils in trenches. Able to cover a larger surface area compared to a smaller vibe plate compactor. They are ideally suited for civil construction works. These units offer a high compaction capacity, superior travel speeds and feature fully hydraulic directional control for easy direction changes. They have a travel speed of up 27m/min. These heavy-duty diesel plate compactor units are fitted with a central lifting point.
Applications include:
Road works, construction projects, landscaping, commercial/residential paving works, driveways, drainage and shed pad's.

Mikasa plate compactor – L70N
Weight: 341kg with extension 361kg
Plate dimensions: 445×860 with extension 595×860
We have 14″ and 16″ STIHL concrete saw's available, they are ideal for shorter cut's. Also knows as a demo saw, cut off saw, these lightweight, but powerful machines are fitted with a 350mm (14″), 400mm (16″) diamond blade. The cutting depth of the 14″ is up to 5in (125mm) and the 16″ up to 5.6in (143mm). They are ideal for cutting through most concrete slabs and bitumen. Our concrete saws are powered by a 2-stroke engine. All of our demo saws are fitted with hose connections which must be used to keep dust levels down and to protect/prolong the life of the machine and blade. We also have trolley's fitted with onboard water tanks for areas with limited access to water.

STIHL TS700 to TS800
Approximate weight: 
14″ 11.6kg
16″ 12.7kg
TS300E is an efficient universal masonry saw with high cutting capacity for all kinds of pavers and building blocks. This table saw has a 14″blade so you get a maximum cutting depth of 100mm in one pass or up to 200mm by step cutting. You can easily plunge or bevel cut at 45 degrees for maximum versatility. The machine is easy to handle by one person thanks to the foldable legs and caster wheels. For areas with limited access to water, we recommend equipping yourself with a portable water supply. If you are in an area without a power source we recommend equipping yourself with a generator.
Husqvarna TS350
Blade shaft RPM: 2800rpm
Max cutting depth: 100mm
Max cutting length: 700mm
Dimensions: (LxWxH) 1120x600x600
Available in flat type laser or grade type laser. Laser levels are the perfect tool for general construction levelling including cut and fill projects, grading, foundations, formwork, footings and excavations. The Topcon dual grade can give you a read on two slopes at separate axis at the same time, which allows you the possibility of coming up with a compound grade. The flat laser is used for flat areas. The standard package with each hire includes laser receiver, receiver mount, batteries, tripod, staff and a remote that allows complete control of the laser up to 300m away.
A water cart is primarily used on construction sites for dust control, compaction, irrigation, and road construction. It consists of a tank with a sprinkler mounted on the front, side or back. We have 4000l and 8000l options available. Ring our friendly staff for enquiries. 
Concrete core drills are ideal for making clean cut holes in your concrete. Our core drills come with a stand that can be dyna bolted into your concrete to ensure a safe and neat cut. These units have excellent drilling performace in concrete, sandstone, and even asphalt with the core bits ranging from 20mm to 203mm (ask in store for a particular size) and drills to a depth of up 450mm. For areas with limited access to water, we recommend using a portable water supply unit. 
Husqvarna DM220
Weight: 14kg
Approximate dimensions: (LxWxH) 680x270x1050
We have 8kva petrol powered generators available for powering lights, pumps, power tools and so much more. They are the perfect power solution for any job site or as an emergency back up power at home. Our 8kva generators have a 7l fuel tank which will give you approximately 2 hours run time at full capacity. The unit has multiple outlets installed with safety switches. 
Weight: 80kg
Dimensions: (LxWxH) 850x500x540
Our tipper trucks are available for carting materials to and from your work site. The 2T trucks are automatic and require a car license. We also have a 6T truck available and will require a MR license. A plant trailer is available for the 6T truck. Both 2T and 6T trucks are fitted with towbars and a package can be organized to include a 1.8T excavator, Bobcat S70 or Dingo.
Our cement mixers are ideal for tradies who work on site as well as the DIY handyman at home. They will save you time and energy by not having to mix concrete with a shovel in a wheelbarrow. Work smarter not harder! We have 2.2CF petrol cement mixers that can be easily transported in a trailer or in the back of a ute. Also available are towable road registered 3.5CF petrol mixers, which are easily towed behind any vehicle with a tow ball.
We also offer a range of gardening tools to keep your garden and yard looking neat and tidy. Some of that range includes: 
Pole saw 2.8m and extends to 4m (2 stroke)
Hedge trimmer (2 stroke)
Chain saw (2 stroke)
Wet/Dry vac (Electric)
Pressure washer 3000psi, optional soap attachment and several spray nozzles (petrol)
Post hole auger (petrol)
Master Hire flex drive pumps are submersible and driven by rotating a flexible shaft from the drive unit to the pump head. Submersible operation of the pump head ensures that it is self priming and does not require a suction hose. The pump is designed with wide passages thought the strainer, impeller and body to allow the unobstructed passage of solids. It is suitable for handling fluids with a high solid content such as sand, sludge, silt up to 60% in suspension, oil and water. The sludge pump suits the most common applications including, dams, mines, tanks, tankers, swimming pools, pits, trenches, excavations and construction sites.
Our 1.8T tandem smooth drum rollers are compact and robust in design and come with an onboard water tank (145l capacity) complete with sprinkler system. Often referred to as a twin drum roller, they are powered by diesel engines, each of these machines are equipped with ROPS (roll over protective structure) and have integrated tie down points, with great all round machine visibility for safety on the job site. With front and rear vibration on each drum you will easily compact material close to edges, walls and other tight areas with ease. These small but tough rollers are perfect for civil construction sites, asphalt works, pathways, street repairs or road maintenance. Our 1.8t rollers come on a trailer with a solid ramp to make loading and unloading fast and safe.
Weight: 1734kg
Dimensions (LxWxH): 2040x1112x2400
Travel speed: 8.6km/h
HT712 walk behind trenchers are ideal for digging jobs such as sprinkler systems, water lines, dog fences and other shallow applications. Our petrol powered units can dig up to 500mm deep with a 90mm wide trenching chain. The narrow design of these powerful trenchers allows them to fit through small gates, paths and doorways. With free wheeling hubs, hydraulic drive and forwards/reverse chain rotation. The automatic adjustment to the wheel speed also eliminates the responsibility on the operator to constantly adjust their wheel speed. Nothing could be easier for the novice operator. The unit will require to be driven up a ramp (ramp can be provided) onto a trialer or ute.
Weight: 181kg
Dimensions (LxWxH): 1810x775x1090
Wheeled/Tracked Skidsteer
Skid steer loaders are incredibly tough and versatile machines capable of performing a huge number of construction and landscaping tasks. Compact, maneuverable and powerful the machine is able to handle rough terrain and tight spaces with zero-radius turning. Skid steer loaders are used on building and construction sites of all types. The versatility makes these machines a cost effective partner for getting a lot of work done in a short period of time. Depending on your needs we have wheeled or tracked machines available and all of our skid steers come with a 4 in 1 bucket. Our machines can be used to backfill, level, load or spread materials such as soil, sand, crushed rock or clay. Dimensions vary depending on make and model. Available upon request we can also supply, spreader bars (small 1000mmx1400mm or large 2000mmx1500mm), augers ranging from 150mm to 600mm, forks for lifting pallets and trenchers are available for smaller skid steers only. Excavator/skidsteer + tipper truck packages are also available.

Also referred to as a Dingo, Kanga or tracked skidsteer loader, these machines are perfect when it comes to moving or levelling dirt and other materials on site or in the backyard. The Ditch Witch SK800 is fitted with rubber tracks and a high track drive system which makes it ideal when the work area is sandy or muddy. Coupled with a 24.8hp Kubota diesel engine the tracked mini loader can lift up to 413kg. The unit can travel across the ground quickly in either forward or reverse direction up to 6.9km/h for enhanced jobsite efficiency. Complete with a dedicated operator platform with hip and thigh padding, the unit also has hydraulic functionality for a range of optional attachments, with a two-way, easy to use auxiliary control foot pedal that enables the operator to maintain hydraulic flow to the attachments while freeing their hands to control depth and ground speed. All our tracked mini loaders come on a trailer with a 4 in 1 bucket. The unit has a total length of 2.67, (with bucket) and a width of 850mm, height of 1450mm and weighs 1324kg (without attachments). Our tracked mini loaders are reliable, easy to operate and perfect for the narrowest of backyards or tightest landscape jobs. A range of attachments such as trencher (170mm wide), augers ranging from 150mm up to 600mm and spreader bars (1000mmx1400mm) are also available upon request.
Our compact PC18MR-3 Komatsu excavators are the perfect tool for digging trenches or foundations. This excavator fits into the tight spots around your home or job site with the machine with able to reach 1000mm. The unit comes with a 1m trimming bucket, 450mm tooth bucket, 300mm tooth bucket, and single tyne ripper. All our machines are equipped with a hydraulic blade and can come on an aluminium trailer with ramps. The rubber tracks are adjustable, allowing the width to extend out to 1280mm and weighing only 1,780kg. The operator can focus on the work in front of them and less about a rear swing impact, even in confined areas with only an 80mm projection over the tracks. It also offers a canopy that can be removed for more height restricted areas. Our compact excavators are reliable, easy to operate and safe enough for backyards with tight access. No license is required to operate. We also have a range of attachments available for hire such as augers ranging from 150mm up to 600mm, rock breakers and sleeper grabs. Excavator/skidsteer + Tipper truck package deal are also available.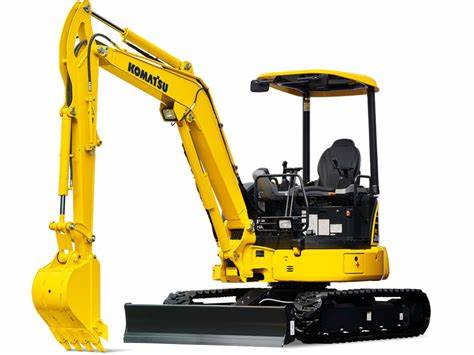 Our PC30MR-5 Komatsu Excavators are the pefect tool for digging trenches, holes or foundations, for excavating cut and fill, soil, rock, or gravel. They are ideal for builders, plumbers, electricians and other tradies – or anyone who needs to work in confined areas. Each unit will have a 1200mm trimming bucket, 600mm & 300mm tooth buckets and single tyne ripper. All our machines are equipped with hydraulic batter blade. They are all fitted with fire extinguishers, battery isolator and emergeny stop buttons. The short-tail PC30 delivers optimal power, digging speed and great visibility, while remaining very compact for the tightest of areas leaving the operator to focus on the task at hand. It offers a removable canopy that can be removed in house upon request. We can also supply a range of attachments for hire such as augers from 150mm to 600mm, sleeper grabs and rock breakers.
A machine of this size will require a truck to transport them. We offer a convenient delivery and pick up option, so speak to one of our friendly team member to arrange. Rates vary depending on location.
Weight: 3150kg               
Dimensions (LxWxH)
With canopy: 4560x1551x2520
Without canopy: 4560x1551x2000


These powerful machines are suitable for a range of tasks such as drainage trenches, pool excavations and building footings. The 4.5T and 5.5T excavators are ideal when a mini excavator won't cut it, but a larger machine would be overkill. Generally considered smaller in size, these machines are ideal for a broad range of worksites whether it be road construction or backyard DIY projects. Our machines will be equipped with a 1200mm trimming bucket, 600mm tooth bucket, 300mm tooth bucket and single tyne ripper. All our machines have hydraulic blades also. Each excavator has functioning air conditioning, battery isolators, fire extinguisher and a emergency stop button. We also have a range of attachments for hire such as augers ranging from 150mm to 600mm, auger extensions, sleeper grab, rock breakers and  range of buckets should you need.
A machine of this size will require a truck to transport them. We offer a convenient delivery and pick up option, so speak to one of our friendly team member to arrange. Rates vary depending on location.
The TR 348 rotary hoe is ideal for soil preparation for turf laying and garden beds. They can be easily transported on the back of a ute or in a trailer. These units weigh 73kg and will require a two man lift or they can be driven on and off the bed with a ramp. The unit has adjustable and foldable handlebars both horizontally and vertically for desired working position, storage or transport. Easy to adjust drag bar for different working conditions. Easy to access and use controls, with a 3 speed reversable gearbox for those tight spaces. The unit is also equipped with a tine shield to protect against flying debris and to cover the 4 rotating tines for your safety. With 7 steps of adjustment you'll be able to reach your desired depth.
Weight: 73kg
Tyre size: 345mm
Rotation speed: 3300rpm
Tine diameter: 300mm
Working depth: 150mm
Working width: 480mm
The Billy goat PL1801 aerators are ideal for residential lawn aeration and features 4 reciprocating cam tines that propel the unit forward and drive cores up to 70mm deep. The unit can aerate up to 2000m2 per hour, is simple to operate for homeowners, easy to steer without lifting and requires no add on weights. The folding handle allows for compact storage and easy transport. Powered by a reliable Honda engine, the cam shaft design punches the tines into the ground delivering effective aeration in all Australian soil conditions.
 Weight: 109kg
Dimensions (LxWxH): 1450x610x1000
Our dethatchers. also known as scarifiers or power rakes, are the perfect tool to thin out and rejuvenate old lawns. These machines remove layers of built up thatch (dead grass roots and runners) in your lawn by running a series of spinning vertical blades or steel fingers over your grass to slice the dead thatch layer. This process of shredding the dead layer of grass allows water and oxygen to reach the grass roots which lets the soil breathe and promotes healthy regrowth. These units have a blade cutting width of 457mm. For best results, mow before and after using the dethatcher. These walk behind units have a fold down handle making it easy to transport on the back of a ute or in a trailer. 
Weight: 58kg
Dimensions (LxWxH): 1160x670x990
Hilti TE1500-APR is ideal for the demolition of concrete, asphalt, clay and cement treated material. Our jackhammers are equipped with AVR (active vibration reducer) which allows for extended periods of continual use. We also have a range of chisel and spade attachments for you to choose from. If you are doing a job with large floor surface area you should consider equipping yourself with a jackhammer trolley. Make sure to specify if a trolley is required as it is a separate hire. This durable and sturdy trolley helps you demolish material keeping weight off your back while the inbuilt rubber mounts and bushes absorb most vibrations. The trolley is designed with five preset positions to give you a range of angles to work with and is fitted with a foot rest to help transfer your body weight to the blade and push the unit forward while reducing risk of injury. Due to these features you are able to work safely and reduce fatigue.
Jackhammer weight: 14kg
Trolley weight: 27.5
Trolley dimensions: (LxWxH) 1110x570x540